Dr. Dhaktode's OM Hospital is a multi super specialty 24 bedded hospital in Dombivli, East. Occupying an area of 3500 sq.ft., situated on the 1st & 2nd floor of Commerce Center, the first completely commercial complex of Dombivli with wide passages and lift facilities. OM Hospital is in the heart of Dombivli, very close to the railway station also being on the major arterial KDMC Bus route.
Dr. Sharad Dhaktode & Dr. Vandana Dhaktode, husband – wife team of surgeons have taken the initiative to set up this OM Hospital.
OM Hospital has a very good ambiance with abundant ventilation, with sleek interiors giving it a very neat and clean look. Gods grace, Doctor's efforts and patient's faith are the key factors in giving faster cure to the patients.
OM Hospital has tried to make patients comfortable by having Television, EPBX Intercom System, Medical Shop, Outsourced Ambulance. UPS / Generator back up is provided to overcome the power uncertainty and power disruption.
OM Hospital is equipped with latest medical equipment, has qualified Nurses and Day & Night R.M.O.s The Outsourced blood bank facilities available in Dombivli are also great assistance.
The operation theater has latest design O.T. Table, Shadowless LED Lamp, LED O.T Light,  Solid State Bipolar Cautery, Noiseless Suction Machine, Sevoflurane Boyle's Anesthesia Apparatus, CPAP/BIPAP, Cardiac Monitor & Defibrillator, Ventilator, Pulse Oximeter, Oxygen, Laparoscopic Instruments, Autoclave and all necessary instruments.
OASIS Hospital (OM Advanced Surgical & Intensive Services Hospital) super speciality OT, ICU, NICU have the following features :
Stainless Steel Pre-fabricated & Pre-engineered Modular Operation Theatre latest concept in completely sterile operation theatre, presently installed in Breach Candy & Asian Heart Institute . First of its kind in Thane district.
Allengers Mobile C-Arm Image-Intensifier Xray TV system.
C-Arm compatible hydraulic OT table.
Shadowless Halogen springarm,ceiling mounted, 4 Reflector, double-domed OT light.
Ecclipse digital electrocautery with integrated CPU control, feather touch, programmable system.
40Kva Acoustic Deisel Generator Set with automatic on mains failure (AMF) Panel.
Seimens Servo 900C Ventilator.
Central Oxygen.
Defibrillator.
Pulse Oximeters.
Infusion Pumps.
Servo-controlled neonatal warmers with Photo-therapy.
OM Hospital
ROHINI ID 8900080134003. registration is valid up to "06-12-2023"
| Health Package | Amount (in Rs.) |
| --- | --- |
| Full Body Check Up | |
| | |
| Doctor Consultation | 500 |
| Hb (Hemoglobin) | 100 |
| Cbc (Complate Blood Count) | 180 |
| URA (Urine) | 100 |
| ESR | 20 |
| HBA1C (Diabetes) | 550 |
| FBS (Diabetes) | 50 |
| Sr. Billirubin | 200 |
| SGOT (Liver Test) | 100 |
| SGPT (Liver Test) | 100 |
| BUN / S Creatinine (Kidney) | 200 |
| Lipid Profile (Cholestrol) | 500 |
| T3 T4 TSH (Thyroid) | 500 |
| VID D 3 | 1300 |
| Chest X-Ray | 600 |
| ECG (Heart) | 600 |
| Sonography Full Body | 1500 |
| 2D Echo (Heart) | 1800 |
Surgical
Medical
General
Gynaec & obstetrics
ENT / Ortho / Paedsurgery
Neuro Surgery / Plastic Surgery
Cancer Surger / Uro Surgery
Laparoscopic Surgery
Gastro Enterology
Hematology
Skin.VD
Psychiatry
Pediatrics
Chemo Therapy
Burns
24 Hrs Service Plasma Blood Bank


FDA License No. KD 111 [Whole Blood and all components of blood like Packed Cells, Plasma, Platelets etc.]

ICU
Pathology
X Ray
ECG
2-D Echo
Ultra Sonography
Ventilator
Photo Therapy + Warmer
Breast clinic
Piles Clinic
Diabetes Clinic
Thyroid Clinic
Hernia Clinic
Sonography
8.45 am – APPT CALL – 2862263
2 D Echo
Tues-Thu 6.30 pm
On Panel (Cashless Insurance / TPA Companies) :

Aditya Birla General Insurance Company
Alankit Health Care Limited
Anmol Medicare Ltd
Anyuta Medinet Healthcare Pvt Ltd Amhpl TPA
Apollo Munich Health Insurance Co Ltd
Bajaj Allianz General Insurance Co. Ltd
Bharat Electronics
Bharati Axa General Insurance Co Ltd
Birla Sun Life Insurance Co Ltd
Bridges Healthcare Federation
Cholamandalam General Insurance Company
Cigna TTK
DHFL Insurance
Dawn Services Pvt Ltd
Dedicated Healthcare Services TPA
Edelweiss General Insurance Company
E Meditek Tpa Services Ltd
East West Assist Pvt. Ltd
Ekohealth Management Consultants Pvt Ltd
Eriscon TPA Health Care Pvt Ltd
FHP Family Health Plan Limited
Focus Health Care
Future Generali India Insurance Company Ltd
Good Health Insurance TPA
Genins India Ltd
Grand Health Care TPA Services India Pvt Ltd
Happy Insurance
Hcx Healthcare Infoxchange Pvt Ltd
HDFC Ergo General Insurance Company Limited
HDFC Life Insurance Co. Ltd.
Health Care
Health India TPA Services Pvt Ltd.
Health Qurters India Pvt Ltd
Heritage Health Services Pvt. Ltd.
Hi – Health Insurance TPA
ICAN
ICICI Lombard
Iffco Tokio General Insurance Company Limited
India First Life Insurance Co Ltd
Jio
Kotak General Insurance Company Ltd
L & T General Insurance Co Ltd
Liberty Videocon General Insurance Ltd
LIC Of India
Magma HDI General Insurance Co Ltd
Max Bupa Health Insurance Co Ltd
Maxlife Insurance Corporation
Mdindia Healthcareservices TPA Pvt Ltd
Medi Assist India Tpa Pvt Ltd
Medibuddy Plus
Medicare TPA (I) Services Pvt. Ltd.
Medsave Health Care Limited
Metlife Insurance
MSEB HCL GMC Co Ltd
Mtnl
Mumbai International Airport Pvt Ltd
Municipal Corporation Of Greater Mumbai
National Insurance
New India Insurance
Oriental Insurance
Paramount Health Sevices Pvt Ltd
Park Mediclaim Consultants Pvt. Ltd.
Prestige Health Administrator Pvt Ltd
Raheja Qbe General Insurance
Raksha TPA (P) Ltd
Reliance General Insurance Company Ltd
Religare Health Insurance Company Ltd.
Rothshield Healthcare TPA Services Ltd
Royal Sundaram Alliance Insurance Co. Ltd
Safeway TPA Services Pvt Ltd
SBI General Insurance Co Ltd
Spurthi Meditech TPA Solutions Pvt Ltd
Sri Gokulam Health Services TPA Pvt Ltd
SRMCS Sunrise Medicorp Solution Pvt Ltd
Star Health And Allied Insurance Co. Ltd
Sun Medical Services
Swasthya-Maharashtra Govt Retired Employees Group
Swathy E Medicare Services Pvt Ltd
Tata AIG General Insurance Co Ltd
TTK Healthcare TPA Pvt Limited
United Healthcare Parekh TPA India Pvt. Ltd.
Universal Sompo Health Insurance
Univresal Medi Aid Services Ltd
Vidal Health TPA
Vipul Medicorp TPA Pvt Ltd.
A.C. Delux Rooms – 2
Single bed with attendant bed with attached toilet, Television, Telephone and Music.
Semi – Special Rooms – 3
Twin bed with attendant bed with attached toilet with Music.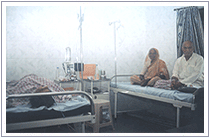 Maternity Room – 1
Twin bed with attendant bed with attached toilet.
I.C.U.
Single bed with attendant bed.
OM HOSPITAL
1ST FLOOR – 2180 Sq. Ft.
OASIS – OM ADVANCED SURGICAL & INTENSIVE SERVICES
2ND FLOOR – 1078 Sq. Ft.
Dr. Dhaktode's
OM Hospital
1st Floor, Commerce Center, Near S.K.Patil School,
Tandan Rd., Ramnagar, Dombivili (E), Mumbai – 421 201, India.
Tel : (0251) 2862263 / (0251) 2863692 / (0251) 2863955
Office : (95251) 2861 070
Mobile : 98211 317 58
Email : omhospital5000@gmail.com
Call on 0251-2862263 For Appointments
Call on 7208013582 For Mediclaim Cashless TPA